For 4th of July, I signed up to bring a dessert to the barbeque.  I had seen a couple of desserts on Pinterest that I wanted to try, so I had my daughter pick the one that she thought looked the best.  She decided on a dessert that has a chocolate cookie bottom, reese's peanut butter cups in the middle, and brownie on top.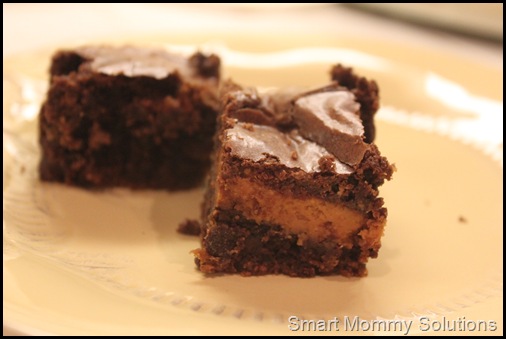 Since we were making this for a pretty large crowd, I needed to use a big pan to cook it in.  We made the cookie recipe from the toll house chocolate chip bag, and bought (3) 6 or 8-packs of peanut butter cups.  Then I made two boxes of brownies.  I probably could have just done one box of brownies, but it seemed thin when I poured it over everything.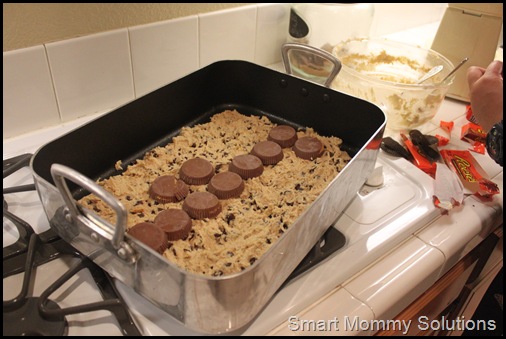 You smear the cookie dough on the bottom of the pan, layer the peanut butter cups, and then pour the brownie mix over the top.  Since my pan was so large, and I had so much brownie dough, I wound up having to bake it for 45 minutes at 375 degrees.  If you are doing a smaller batch, you will probably need to bake it for much less time.  Basically bake it until the brownie is done.
It is really rich, so I cut it into smaller pieces than I normally would.  Major chocolate overload.  Everyone should love it.
https://ishyandtolo.com/wp-content/uploads/2012/07/331_thumb.jpg
339
506
Tonya
https://ishyandtolo.com/wp-content/uploads/2016/11/cropped-ishy-and-tolo-logo-wide-copy-2-2.png
Tonya
2012-07-04 08:02:56
2018-12-07 04:44:02
Yummy cookie peanut butter cup brownie