Jump to recipe
A couple of years ago, we were at some friend's house, and the teen girls were cooking different recipes, and my friend took my 12 year old son in hand and had him help make her pasta sauce. My son enjoyed the cooking process, and he begged me later to get the recipe so that he could cook it for us. My son has made it a few times now, and has added some additional ingredients and has created more specific measurements. My friend just put everything together and didn't need to measure, so we worked on it and developed precise measurements for the ingredients.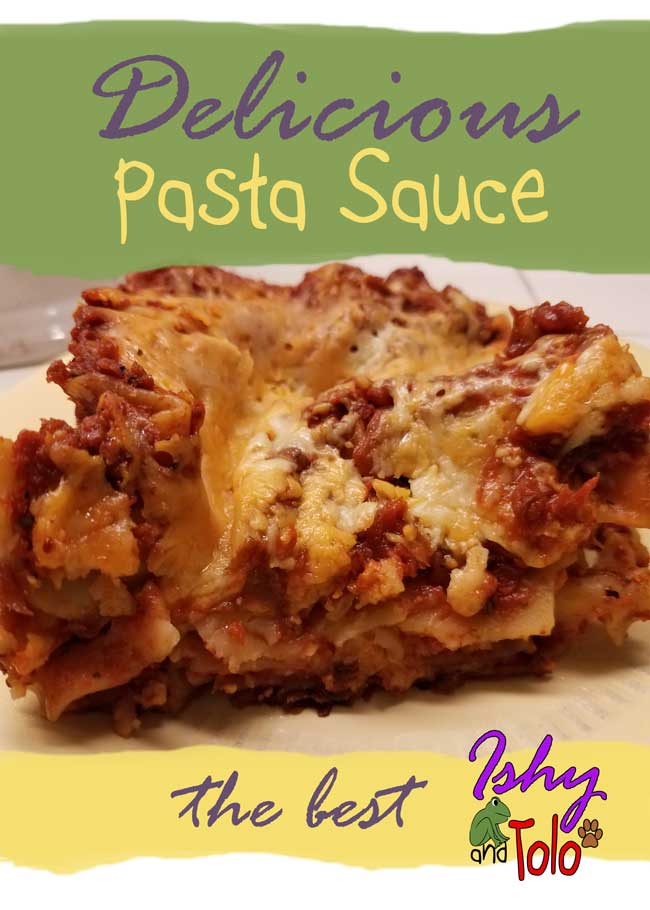 The other day I made this sauce, and every time that I make it, I can't believe how incredibly delicious it is. I make a great lasagna, and my daughter has always hated it. It turns out that it was the canned sauce that she didn't like, because she really likes the lasagna that is made from this sauce.
We find it funny that when we buy wine, it is specifically for the teenager to make his delicious sauce. We have discovered over time that the best wine to use is Merlot. This sauce is great on spaghetti, in lasagna, and on pizza. It is truly addictive.

A delicious pasta sauce with a great combination of flavors.

Total Time
1 hour, 15 minutes
Ingredients
Big can of crushed tomatoes (seasoned if available)
Medium can of diced tomatoes (seasoned if available)
Big can of tomato puree
Medium can of tomato sauce (seasoned if available)
Tiny can of tomato paste
1 Cup red wine (we like Merlot)
1 sweet onion, diced
1 red bell pepper, diced (optional)
1 Cup sugar
1 Tbsp garlic
1 Tbsp oregano
1 Tbsp basil
garlic powder, Pepper and salt to taste
Instructions
Add all of the ingredients to a large pot and bring to a boil. Once boiling, lower the temperature and simmer for an hour then add extra seasoning to taste.
https://ishyandtolo.com/wp-content/uploads/2017/11/delicious-pasta-sauce.jpg
910
650
Tonya
https://ishyandtolo.com/wp-content/uploads/2016/11/cropped-ishy-and-tolo-logo-wide-copy-2-2.png
Tonya
2017-11-12 16:36:07
2019-12-15 17:46:26
Super Easy Best Pasta Sauce Ever