Jump to recipe
For the summer months, my teenage kids wanted to do some science and craft and creating type of activities.  They got their inspiration from the Myth Busters and their line on the show where they say "Don't try this at home".  Well, the kids have started a youtube channel called We Tried it at Home.  We will be doing whatever strikes the kids' fancy.  The internet is full of activities for young kids to do, but our activities are going to be mostly activities that teenagers would want to do.  My main stipulations are that it can't be too expensive, and it can't be dangerous.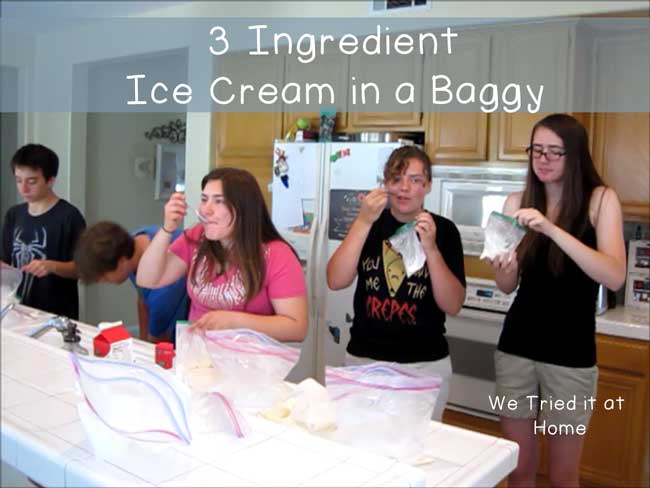 So for our first activity we started with an ice cream party.  We made ice cream in a baggy which only needs 3 ingredients, some ziplock baggies, ice, salt, and physical activity.
Ingredients:
1/2 cup of heavy cream
1 tablespoon of sugar
1 teaspoon of vanilla
You also need ice, 1/3 cup of salt, 2 small baggies, and 2 large baggies.
You first pour the cream, sugar and vanilla into one of the small baggies and seal it up.  Then put that sealed baggie into another small baggie and seal it up.  Next you put 3 cups of crushed ice and 1/3 cup of salt into a large baggie, place the small baggie of cream into the ice bag and seal it up.  Then put all of that into another large baggie and seal it up.
Now it's time to have fun and get physical.  You toss around the bag and shake it up for about 10 minutes.  You can play catch, throw it in the air, hold it and shake it and generally make sure that it is in constant motion until the ice cream gets cold and freezes.
Once the ice cream is a creamy solid consistency, you can remove it from its inner sanctum and eat it straight out of the baggy.  Make sure that there is no salt on the outside of the ice cream baggy because you don't want to contaminate your ice cream.  Here is a video that the kids made of them making the ice cream.
Here is our video of the kids making the ice cream.  It is our first of many, so join us in trying it at home.


A delicious and healthy sweet bread made with frozen cherries or other berries.

Notes
You can use any types of berries that you would like. We have used strawberries, blueberries, and cherries. They are all delicious.

Ingredients
2 cups all purpose flour
1 cup oats
1 1/2 cups sugar
1 tsp baking soda
1 tsp cinnamon
1 tsp salt
1/2 cup vegetable oil
1/2 cup apple sauce
3 eggs
2 cups sliced frozen thawed cherries (or whole 16 ounce pkg) including juice
Instructions
Preheat the oven to 350°. Grease or place cupcake liners into cupcake pan.
In a large bowl, wisk together the dry ingredients of flour, oats, salt, sugar, baking soda, and cinnamon until combined. Stir in the oil, applesauce, eggs, and berries. Mix until combined. Scoop into the muffin tins and bake for 20 minutes or until a toothpick inserted into the center comes out clean.
Nutrition Facts
Cherry Oat Muffins
Serves: 24 muffins
Amount Per Serving:

1 muffin

Calories

168 kcal

% Daily Value*
Total Fat

5.68 g

7.7%
Saturated Fat

0.615 g

0%
Trans Fat

0.02 g

Cholesterol

20 mg

6.7%
Sodium

158 mg

6.6%
Total Carbohydrate

26.88 g

8.7%
Dietary Fiber

1.3 g

4%
Sugars

14.17 g

Protein

3 g
| | |
| --- | --- |
| Vitamin A | Vitamin C |
| Calcium | Iron |
* Percent Daily Values are based on a 2,000 calorie diet. Your daily values may be higher or lower depending on your calorie needs.
https://ishyandtolo.com/wp-content/uploads/2015/06/3-ingredient-ice-cream-in-a.jpg
488
650
Tonya
https://ishyandtolo.com/wp-content/uploads/2016/11/cropped-ishy-and-tolo-logo-wide-copy-2-2.png
Tonya
2015-06-21 23:42:58
2018-12-07 04:36:40
Super Simple 3 Ingredient Ice Cream in a Baggy